Godzilla movie designs (Legendary Pictures/Toho), as well as projects for Wayforward Technologies, Hasbro, and Disney. In 2011 Genzoman published his first compilation artbook called Legendary Visions by UDON. Currently he is launching his Patreon.com project and working on his own comic called The Wanderer.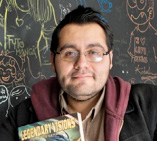 GENZOMAN, Gonzalo Ordóñez Arias, Freelance Illustrator
Inspiration
I am always seeking inspiration from music, reading, watching movies, and video games. This helps me to understand what is popular and trending in the industry.
Favourties
Quote From Acrobat by U2: "In dreams begins responsibities." Artists Kazushi Hagiwara, Frazetta, Quique Alcatena, Sadamoto, Otomo, Amano, HR Giger, Gericault, and James O' Barr People Bono, Shigeru Miyamoto, and Jean Michel Jarre Book The Last Unicorn by Peter S. Beagle Films Alien, Aliens, The Good the Bad and the Ugly, 2001: A Space Odyssey, Dr. Strangelove, Kill Bill 1 & 2, The End of Evangelion, Akira, An American Tail, The Land Before Time, The Secret of NIMH, and Macross Plus.
Tools
I use Photoshop CS4 with an Intuos Pro and Bamboo digital tablets. I work digitally for enviornmental reasons — I don't want to waste paper.
Advice
In the 1990s, it was difficult to break into this industry because you needed contacts. Now that we live in a more democratized era, artists can get exposure online. I recommend using social media (Facebook, Instagram, Tumblr, Twitter, etc.), and to update your content as much as possible. My big break was with World of Warcraft, when my illustrations were used in the loading screen for The Burning Crusade at a time when there were almost 14 million players.