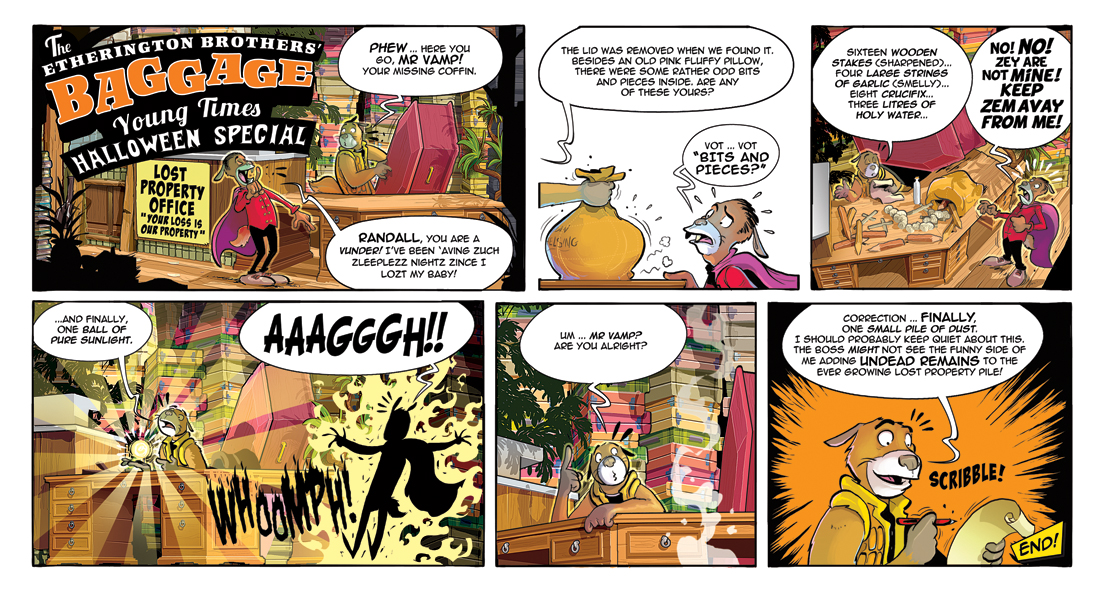 Lorenzo Etherington
Comic book artist Lorenzo Etherington is the cocreator (along with his brother and writer, Robin Etherington) of Long Gone Don, Von Doogan, Baggage, Monkey Nuts, and The Art of Stranski. Lorenzo's client list includes Disney, Dreamworks, Aardman, the BBC, LucasFilm, and many of the world's largest book and broadsheet publishers.
Lorenzo sketches every day, and thousands of these designs and concepts can be seen in his series of giant art books or on his weekly sketch blog.
LORENZO ETHERINGTON, COMIC BOOK ARTIST
Inspiration
My inspiration comes from the endless learning process of my drawing experiences. Every time I discover a new technique or dabble in a fresh style or work in my sketchbook, I learn lessons that re-colour everything I thought I knew. It's like discovering how to draw again and again. The more you draw, the more often you will experience this and it becomes addictive.
Tools
I use Kuretake brush pens and ballpoint pens for line art and good old ancient Photoshop CS2 with a Wacom Intuos for the digital work.
Advice
Creating comics is a discipline first and an art form second. To get into this industry, you need to prove to publishers that you are both an excellent draftsperson and someone who can deliver work on time — every time. The best way to get noticed is to self publish your comics. Doing so helps you discover whether or not you have what it takes to become a comic artist. Self-discipline is key to success. Comic publishers are interested only in a strong portfolio of actual printed comic pages rather than splash pages or character designs.
About ten years ago, I self-published comics with my brother, and we attended comic conventions to sell our titles and built a small following. This gradual exposure brought us to the attention of publishers who offered us opportunities to work on both franchise material and our own titles. We've been creating comics and animation ever since.