Frank Calicó
Frank Calico describes himself as an illustrator, comic artist, and pirate! You'll see that these qualifiers fit him pretty well! Whether it's fan art or personal creations, his heroes are dynamic, stylized, and very buccaneer indeed.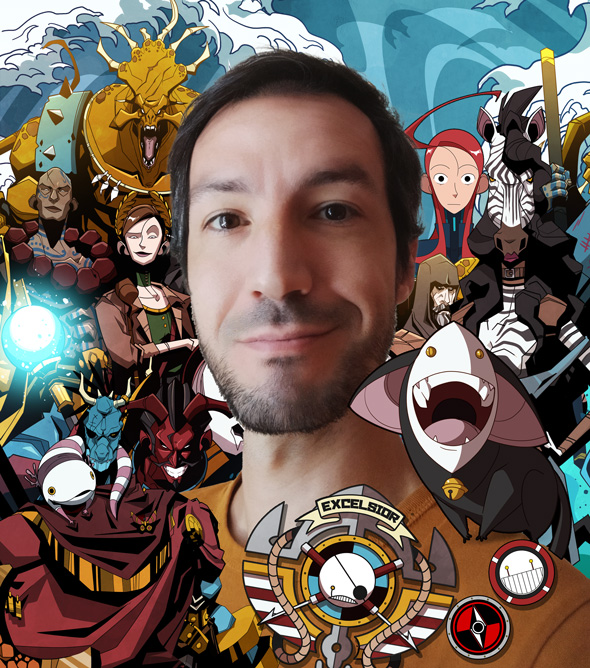 Frank Calicó, Illustrator and Comic Artis
I am a self-taught character designer, illustrator, and comic artist. Some of my character designs and comics have received international awards and nominations from Norma Comics, Wacom, Webtoon, and SMAC, amongst others. I have illustrated children's books, board games, videogames, and my own comics, including successfully funded Kickstarter campaigns and several webcomics.
One of my short stories, The Hotel, was selected for a Webtoon Anthology, and I am currently working on my own full-length series as a Webtoon's Originals author.
Inspiration
"Inspiration exists, but it has to find you working." – Pablo Picasso
I get inspiration for my art from many different sources but most of them are not drawings or graphic art! Music, poems, movies, TV series, videogames… or just a long walk by the sea. Inspiration is everywhere!
Favorites
The Monkey Island saga (the first trilogy) is probably the most influential work in my career, not only regarding graphic art (which still impresses me every time) but also in the sense of comedy and adventure, the script, the dialogues… and even the music.
I also love Mike Mignola, Christopher Nolan movies, Black Sails (my favorite TV Series so far) and I believe that The Prince of Egypt (Dreamworks) is still the best-animated movie ever.
Tools
Huion Kamvas Pro 16, Clip Studio Paint Pro, and a junky laptop!
Advice
Be water, my friend.