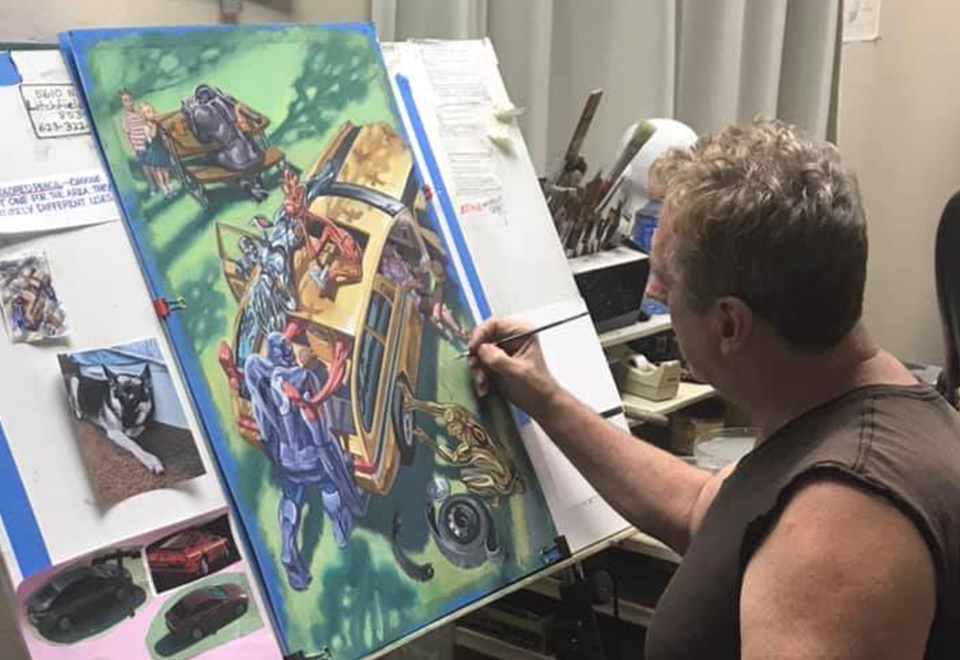 Steve Rude
Steve Rude began his professional career at age 24, in 1981, with Nexus, the independent comic. Comics remain Steve's foremost challenge and the thing he loves most. 
He considers himself an art student, with a desire to better his craft and become proficient in all mediums like the many favoured masters he holds in deep appreciation.
STEVE RUDE, COMIC BOOK ARTIST AND FINE ART PAINTER
He actually began drawing in kindergarten — by age 5, Steve was copying dinosaur pictures and other animals from books his parents gave to him. Steve's father had artistic talent, and they had drawing contests to see who could sketch the best animal. By age 12, Steve became interested in cartooning. In high school, he rediscovered comic books and began the challenge of real figure drawing. Steve attended his first art school at age 19 and was exposed to painting with oils and other mediums.
Favorites
Quotes: "Since the knowledge is available, why struggle along without it? The difficulties of not knowing are always much greater than the effort of learning." — Andrew Loomis, Successful Drawing
Clients: I've worked with all the major companies, but DC Comics and particularly my continuing sojourn with Dark Horse stand out as being the fairest in the treatment of creators. I have great memories working for each of them as I started out in the comic business. I look forward to creating many more good memories working into the current decade.
Heroes: Jack Kirby, Captain Kirk, and Bruce Lee. From them, I've learned almost all there is to stay true to myself and the path I'm on.
Artists: Jack Kirby, John Romita, Andrew Loomis, John Gannam, Harry Anderson, Russ Manning, and Paul "Big G" Gulacy
Tools
I'm a traditionalist, as per my training, and use no digital tools. Of all the mediums I've worked in, transparent watercolour remains the most difficult. With practice I hope to learn more of its ever-elusive qualities.
Advice
To me, becoming better and better as you age is a fallacy. Every artist has a peak period, whether it's in your 20s or your 60s. Whenever that point is reached, the hope is to maintain it. When your passions become more commerce than compulsion, perhaps it's time to take stock. This common condition has been the downfall of many formerly top-rated practitioners.