Bleedman
Bleedman is a freelance comic artist living in the Philippines. He illustrates the webcomics Grim Tales, Sugar Bits, Powerpuff Girls D, and more. Bleedman also works on commissioned projects and is working on a series of tutorials for YouTube.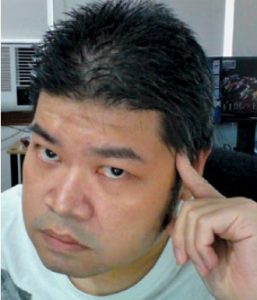 BLEEDMAN, FREELANCE AND WEBCOMIC ARTIST
Inspiration
To stay inspired, I constantly search online for new and fresh art styles. When I find something I like, I google the artist's name and add them to my bookmark. If they are on DA (DeviantArt), I add them as friends.
Favorites
Quote: "Draw like there's no tomorrow." But if I can still draw in the afterlife, that would be awesome.
Artists: Joe Mad, Oyari Ashito
Books: Lovecraft
Films: The first Transformers movie by Michael Bay
Game: Street Fighter
Anime: Evangelion, Madoka
Cartoon: The Angry Beavers
Food: Bibimbap
Tools
All my artwork is created digitally these days — it's faster and convenient. I use a Cintiq 13HD, Photoshop CS, and Manga Studio. I still draw traditionally using my sketchbook when I go out visiting friends, dentist, etc.
Advice
Don't expect to get clients and earn a big income overnight — it takes time and effort. Never think about the money when creating art, but of course you need money to make a living. If you are sincerely passionate about art, you will take a little time each day to draw. Instead of using your extra time chatting, watching YouTube, or playing video games, use this time to draw. Practice and slowly build your portfolio.
My big break came after five years of drawing my webcomics (without a earning a single penny). While working a regular job at a multimedia company, I used my free time off from work to draw my webcomic, updating it twice a week. Eventually my webcomic started getting attention and clients. Then I quit my regular job and now produce my webcomic and commissioned art full time.