Do you dream about becoming a digital artist but feeling overwhelmed by choice of software available?
It's understandable. With so many software programs, deciding which is best for you can be challenging.
We researched and compared more than twenty digital art software and compiled a list of the 11 best. Hopefully, this list will help you decide which digital art software is the best for you.
So, get ready to unleash your creativity.
Procreate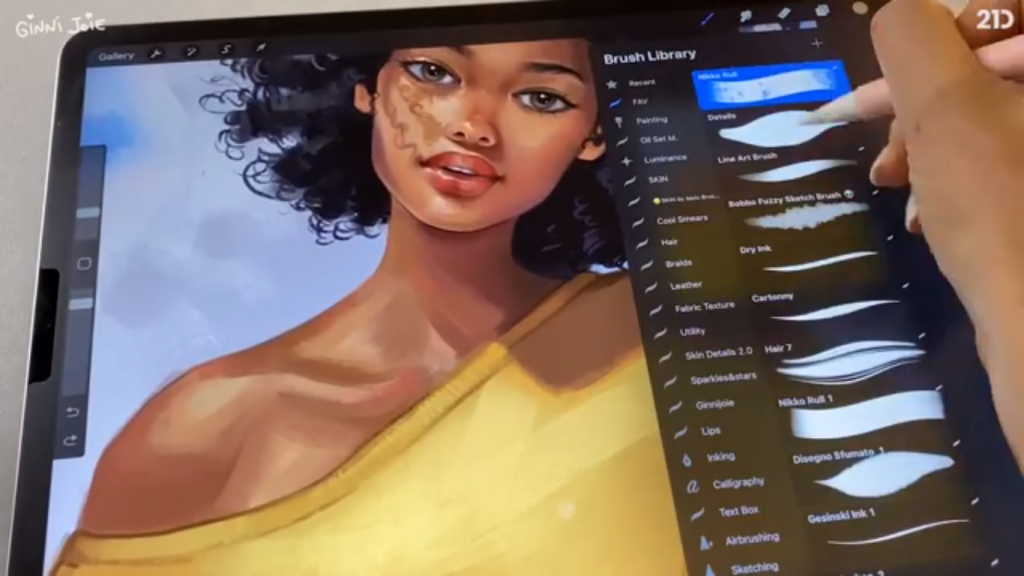 Pros
Has an intuitive user interface.
A vast selection of digital brushes, textures, and layer controls.
No in-app purchases are required for full access to features.
Cons
Available only for iPad and iPhones.
Procreate is an incredible digital illustration and painting app packed with features to help you create your masterpiece. Not only is it popular with professional illustrators, but it's also great for beginners who want to explore the world of digital art.
It offers an intuitive user interface that allows users to easily create digital illustrations, sketches, and art pieces. The app also provides multiple layers, custom brushes, and advanced masking tools to make it easier for users to refine their work.
If you want to learn digital illustration on procreate, please check out our course "Digital Drawing in Procreate for Beginners."
Additionally, the integrated color wheel in Procreate makes it easy for beginners to experiment with color palettes. The app allows digital artists to manipulate layers and blend colors to create realistic digital art and illustrations.
The most recent update, Procreate 5.3, is optimized for Apple's M2 chip, providing faster response times and smoother performance. The new 3D Painting feature further enhances this process by enabling you to create realistic three-dimensional art with ease directly from within the app.
All these features combined make Procreate an excellent choice for digital illustrators and artists who need powerful yet easy-to-use tools for creating stunning works of art.
The only drawback of this software is that it is only available on iPad and iOS devices. Therefore, if you don't have access to either platform, you won't be able to use Procreate.
Adobe Photoshop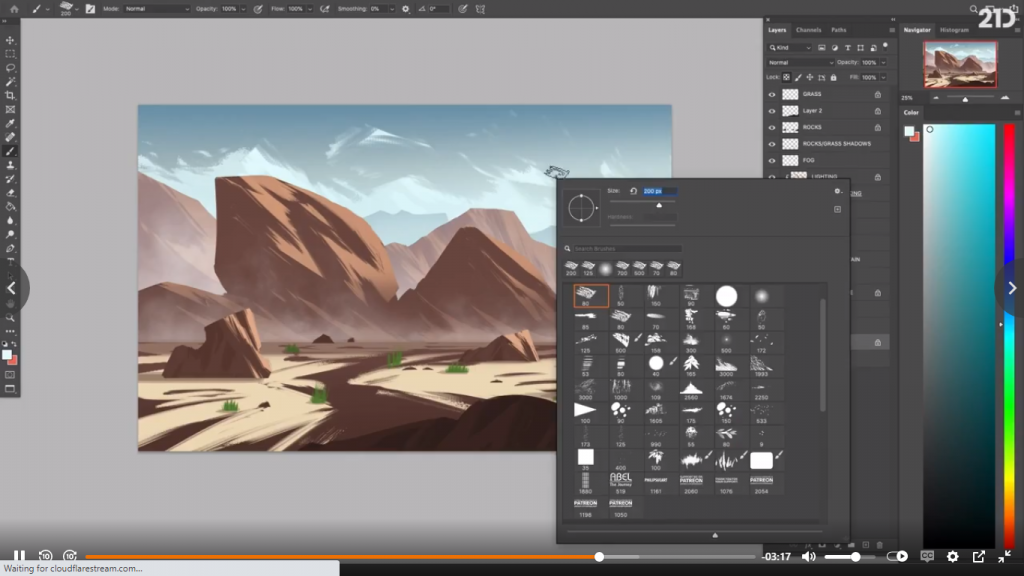 Pros
Provides helpful tutorials and guides for beginners.
Wide selection of digital filters and effects.
Integrated with Adobe Creative Cloud.
Available for Windows, Mac, and iPad.
Cons
Expensive subscription fees if you want access to all features.
The interface can be quite intimidating for beginners.
Adobe Photoshop is a staple for digital illustrators and artists worldwide due to its powerful features.
One of its most impressive features is the ability to layer multiple pieces of artwork, allowing for more intricate designs and seamless edits. Its brush and pencil tools allow users to create realistic effects in their illustrations, from watercolor-style paintings to cartoon-style lines.
The "Object Selection" tool makes it easy to select specific areas of a design, which can be used for making minor changes or creating composite images. It also allows for precise masking and selection to apply color or effects changes only to certain parts of an image. 
Adobe Photoshop also has several useful photo-editing tools that make editing pictures easier. With tools like the Eraser, Blur, and Smudge tools, users can easily produce creative effects on their photos while still preserving their original character.
Additionally, Adobe Photoshop integrates with Adobe Creative Cloud so users can share their digital art with others and collaborate in real-time.
The latest version, Adobe Photoshop 2023 (or Version 24), released in October 2022, also integrates with Adobe Express and features one-click delete and fill as a new way to remove objects from scenes.
It also contains several new features in beta, such as Live Gaussian Blur, Live Gradients, Neural Filters for photo restoration, and Share For Review – another collaboration feature.
However, using all of the features available in Adobe Photoshop requires a subscription fee, which beginners may find expensive. Therefore, unless you're willing to pay for it, Adobe Photoshop might not be the right choice for digital illustrators and artists on a budget.
Also, the interface can be quite intimidating for beginners. Therefore, starting with a simpler digital art app is best before investing in Adobe Photoshop.
Clip Studio Paint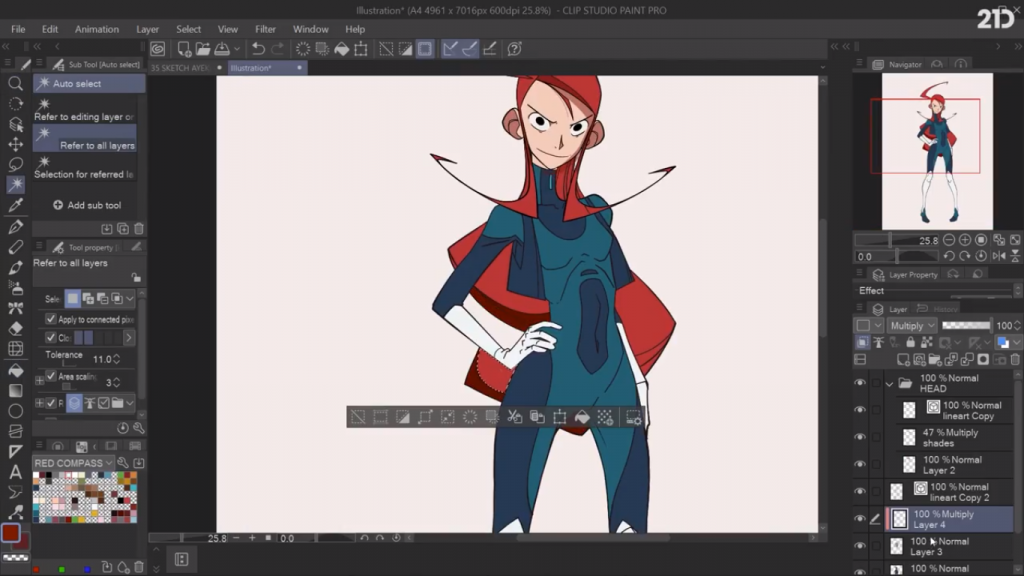 Pros
Clip Studio Paint has advanced vector tools.
It has a wide selection of custom brushes.
Available for Windows, Mac, iPad, and Android.
It allows you to share your work on social media platforms easily.
Cons
The Pro and Ex versions of Clip Studio Paint are expensive.
The user interface can be confusing for digital art beginners.
Clip Studio Paint is a powerful and versatile software designed to help artists create stunning digital illustrations and art.
It offers an extensive set of tools for creating high-quality illustrations, comics, manga, and other styles of art. 
One of the main benefits of using Clip Studio Paint is its wide range of brush options. Users can select from a pre-made brushes library or create custom ones.
The software also includes layers and blending modes that allow for more complex layering of colors and textures. In addition, artists can use tools such as stamping, erasing, and gradients to achieve even more creative results. 
The software supports raster and vector graphics to get the best quality for online and print publishing needs. 
The layer system in Clip Studio Paint provides powerful possibilities for artists to build up their compositions quickly and easily.
In addition, several effects are available, such as gradients, blurring, shadows, and highlights, allowing artists to add subtle details or completely transform their artwork.
The software has two versions
Clip Studio Paint Pro
Clip Studio Paint EX
The Pro version is ideal for single-page comics and illustrations, while EX has extra useful features for creating multi-page projects.
The prices of these digital art software programs may be a factor to consider. Clip Studio Paint Pro & EX are more expensive than similar digital art apps on the market.
The interface of Clip Studio Paint is quite complex, which might make it overwhelming for digital art beginners.
Corel Painter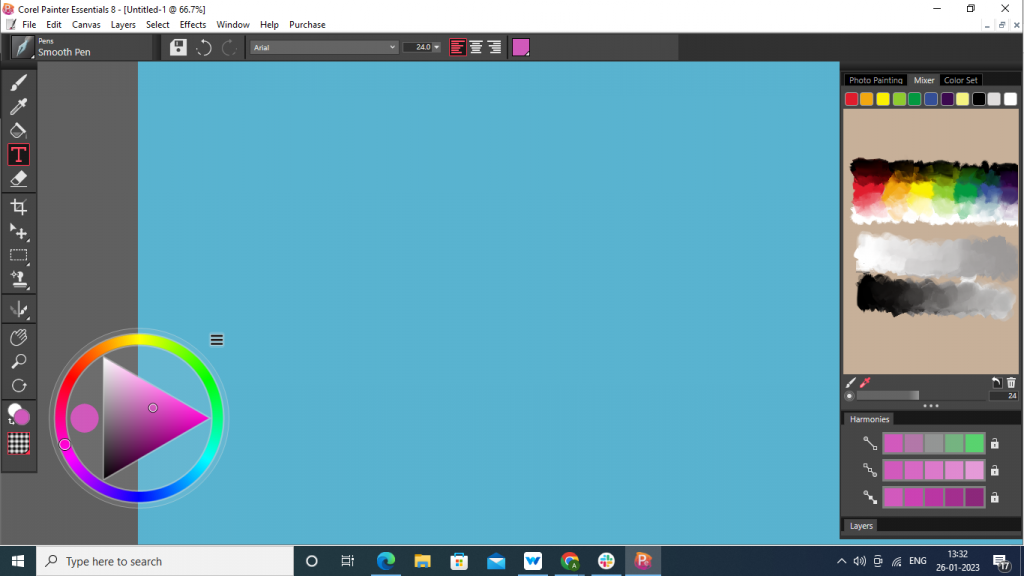 Pros
Intuitive user interface.
Wide range of digital painting tools.
Available for Windows and mac.
Cons
Tablet or mobile apps are not available.
Performance issues on less powerful computers.
Corel Painter is designed to emphasize realism in painting and drawing. It attempts to capture the natural look and feel of traditional media such as oil paints, watercolors, pastels, charcoals, and markers.
It offers several brushes, pencils, and painting tools that can be used to create a variety of effects. The user interface is also intuitive and easy to use, making it suitable for both beginners and experienced creatives.
One of the most important features of Corel Painter is its brush library. This feature allows users to choose from hundreds of different brush types, allowing them to create unique textures and effects on their artwork.
The brush accelerator tool helps make painting more responsive, enabling users to create smoother strokes without lag or stuttering.
The Layers tool in Corel Painter makes adding multiple elements to a piece of art easy. Users can easily adjust individual layers using opacity settings or blend modes, allowing them to build up complex illustrations easily.
However, one drawback of Corel Painter is that it does not offer any mobile or tablet apps at this time. Also, some users have reported performance issues on computers with lower hardware specifications including low RAM.
Furthermore, other alternatives available may provide similar features but sometimes at a lower cost than Corel Painter's subscription fee.
Krita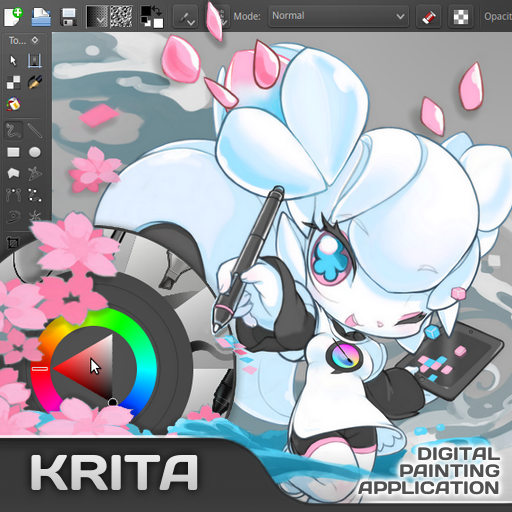 Pros
Free drawing software.
Lots of free educational resources.
Massive collection of brushes.
Available for windows, mac, and Linux.
Cons
It is not versatile.
Some features may seem unintuitive.
Krita is a free open-source digital painting and illustration software suitable for professionals and amateurs. The interface is highly intuitive, allowing you to access all the tools you need easily.
It also has a variety of painting brushes, each with different textures and effects, such as watercolors and inking brushes. Also, special blending options help make your work more realistic.
Furthermore, Krita has layer management similar to Photoshop, which enables you to customize the content of each layer through masks or filters.
It also supports both vector graphics and raster images, allowing you to easily switch between different types of artwork easily.
Additionally, Krita provides several helpful tutorials and guides. These guides can help keep you on track if you are ever confused about what a specific icon means or how something works within the program.
However, one downside of using Krita is its lack of versatility compared to other digital art programs. Some features may seem unintuitive or hard to use, making it difficult for beginners to get comfortable with the program.
Rebelle
Pros
Features like stabilization, color management, and more.
Good for creating realistic paintings.
Available for Windows and Mac.
Affordable with a free trial.
Cons
The Standard edition lacks some new features.
It can be slow on older hardware.
Rebelle is a powerful digital painting software that simulates the look and feel of physical art media.
It features more than 170 brush presets that can be customized to give your artwork a unique touch. The latest edition offers useful upgrades like natural RYB color mixing, stabilization and texture features, layer groups, color management, and more. 
One of the great things about Rebelle is its realism. It does a great job of mimicking the way paint behaves in real life without sacrificing too much quality or speed. You get smooth brush strokes with thick impasto effects that look almost indistinguishable from traditional paintings.
The software also uses smart color pigment mixing algorithms, which help you easily achieve true-to-life colors.
On the downside, Rebelle isn't as feature-rich as other programs. The standard edition comes with limited options, so if you require extended functionality, it could be worth upgrading to one of their paid versions.
Adobe Illustrator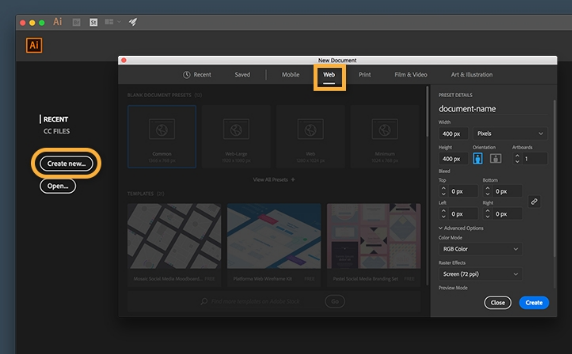 Pros
It is a versatile software for digital artists.
Best file recovery
Offers multiple exporting options
An incredible tool for image tracing.
Available for Windows, Mac, and iPad.
Cons
It occupies a lot of disk space.
It's not beginner friendly.
Provide minimal support for raster graphics.
Expensive CC monthly subscription when you need only Adobe Illustrator.
Adobe Illustrator is a powerful vector illustration software that allows users to create digital illustrations and artwork.
One of the main advantages of Adobe Illustrator is its scalability. This makes Adobe Illustrator ideal for creating logos, icons, and text effects since they will look equally good at any size.
Adobe Illustrator offers everything an artist needs – basic shapes and figures and more advanced options such as brushes, gradients effect, and transformation tools. The program also includes a wide selection of textures that can be used to create interesting designs and effects.
Despite its many advantages, there are some drawbacks associated with Adobe Illustrator. The main drawback of Adobe Illustrator is its steep learning curve. Also, while it is great for vector graphics creation, it has limited support for raster files.
Additionally, with numerous integrated capabilities, this app can easily overload computers and drastically reduce their speed.
Inkscape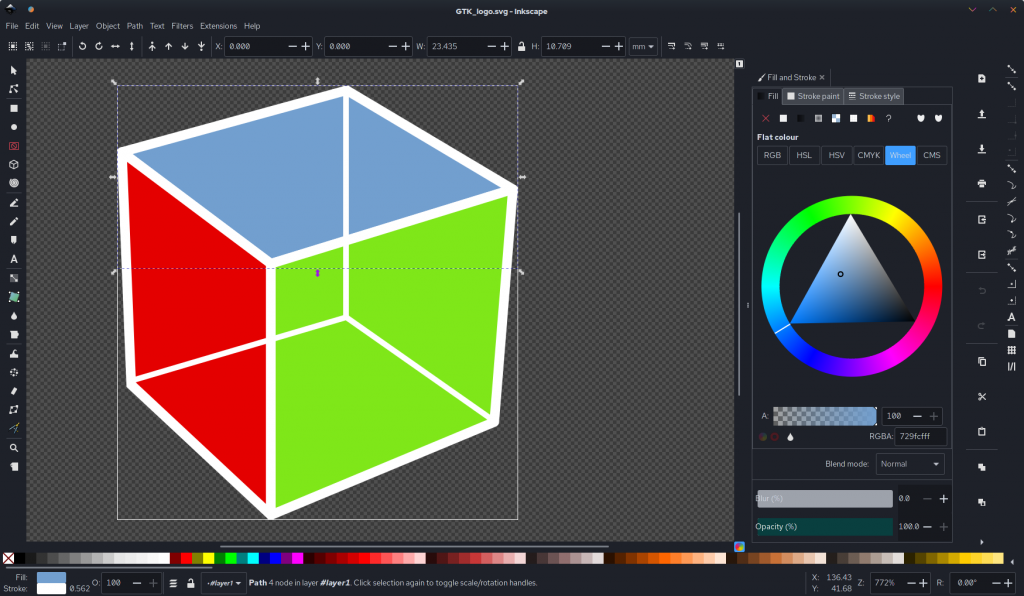 Pros
Free.
Supports multiple file formats.
Available for Windows, Mac, and Linux.
Cons
It can be used for creating vector graphics only.
Not beginner friendly.
Do not support CMYK color mode.
Inkscape is a powerful vector graphics editor available for free. It can create multiple digital illustrations and art, like, logos, diagrams, brochures, etc.
Inkscape has a large collection of tools for editing images, such as shape, path, pencil, and text tools. Users can also use advanced features like path manipulation, text-on-path support, layer handling systems, and filters.
It also supports SVG (Scalable Vector Graphics) files which are great for web-based applications such as websites and mobile apps.
Inkscape also supports different file formats, including PDF, EPS, and PostScript making it easy to export the work into multiple formats for various uses. Furthermore, it provides users with an extensive library filled with clipart that is free to use in their projects.
However, there are some drawbacks to using Inkscape as well. One disadvantage is its steep learning curve due to its complicated user interface. Additionally, it does not support the CMYK color mode, so you may need to use different software to create print-ready projects.
Artweaver 7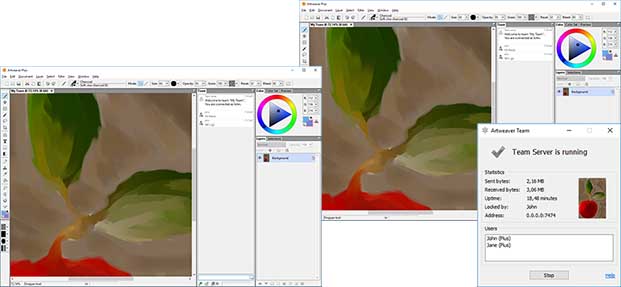 Pros
Provides tools for raster paintings.
Provides plug-in support.
Plus edition is affordable.
Cons
Available for Windows users; no mac OS version is available.
Do not support open-type fonts.
The interface is outdated.
Artweaver 7 is a free digital art software with many features to help create digital illustrations and artwork.
It offers a comprehensive set of tools, from the standard selection of brushes, pens, and pencils to more advanced layers and masks for achieving more complex effects.
It has an interface similar to Photoshop and contains tools such as a brush, color picker, eraser, and selection tools. The vast array of filters, effects, and custom brushes helps create professional-looking designs conveniently.
Drawbacks of Artweaver 7 include being available only for Windows users, so Mac OS users will not be able to use it. Additionally, this software does not support open-type fonts, which may limit its use for certain design projects.
An outdated user interface is another drawback.
ArtRage 6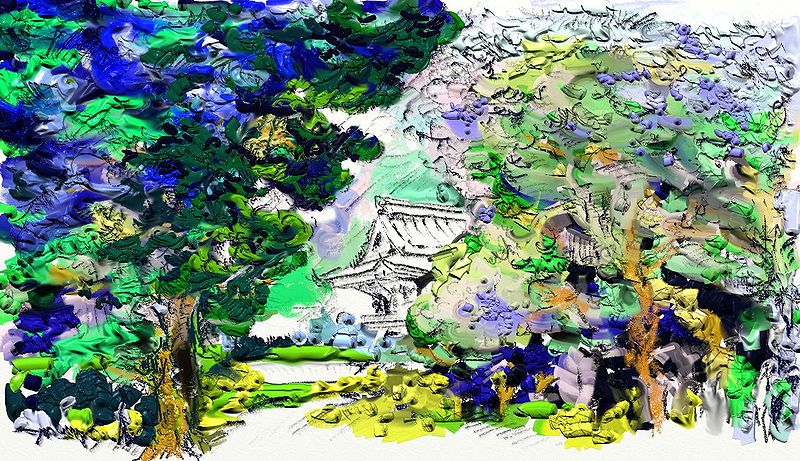 Pros
Realistic-looking paint.
Great tool for beginners.
Affordable.
Available for Windows, Mac, iPad, iPhone, and Android.
Cons
It requires powerful computers to work efficiently at larger print sizes.
It lacks some advanced features.
ArtRage 6 is an intuitive digital painting and illustration software that offers realistic painting tools and textures, making it great for creating digital art. It's easy to use, with a customizable user interface and an array of brushes.
It also provides various natural media styles, such as oils, chalk, crayons, markers, glitter, and watercolor. You can customize the look of your canvas by using layer masks or blend modes to create striking effects with just a few clicks.
However, one drawback to ArtRage 6 is that it lacks advanced editing features available in professional software like Photoshop and Corel Painter. Additionally, ArtRage requires powerful computers to work efficiently at larger print sizes since complex images tend to cause strain on system resources.
TwistedBrush Pro Studio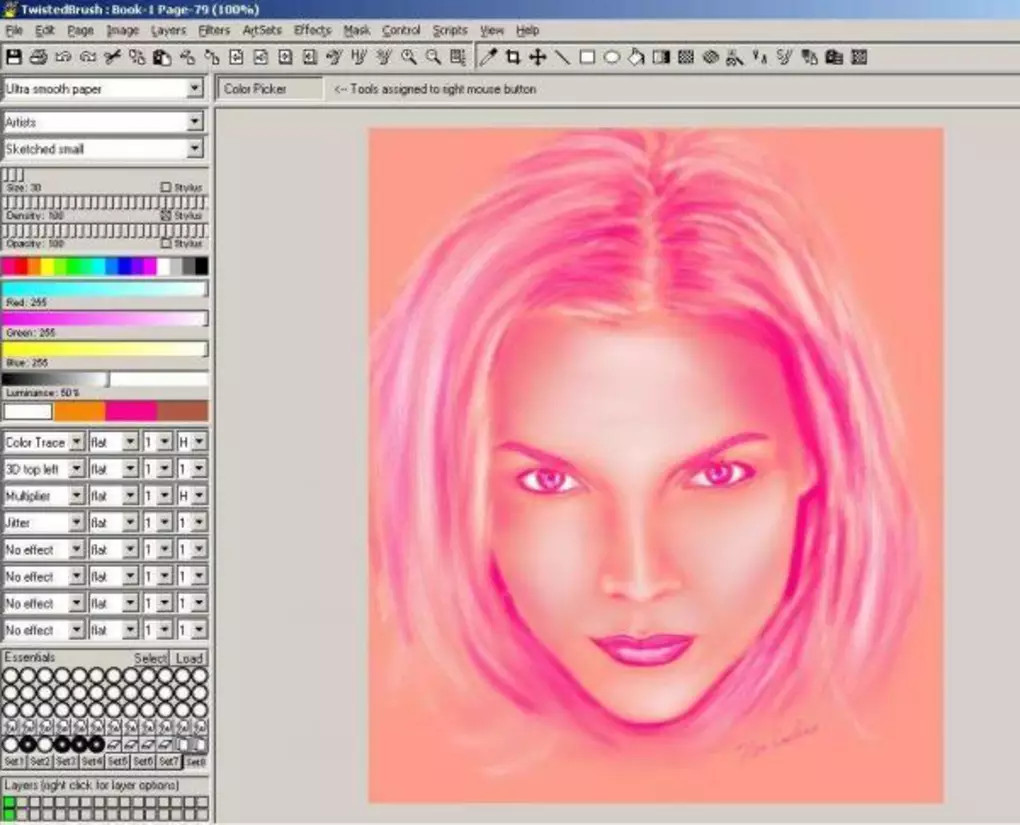 Pros
It offers an extensive collection of brushes.
Beginner-friendly.
Cons
Available only for windows.
Complex user interface.
TwistedBrush Pro Studio is an impressive digital art package for illustrators and artists of all skill levels. It has a massive brush library with over 9,000 brushes.
Additionally, the software supports custom brushes, so you can make your own if you don't like what's available. This makes it a great choice for creating unique and original artwork.
The software offers layers, transparency controls, masks, and extensive import/export options. Therefore, you can easily share your work or use it for other projects.
It also offers high-precision sampling and pressure sensitivity when using a drawing tablet. This makes it a great choice for digital artists and illustrators who need ultimate control over their creations.
However, there are some drawbacks to using TwistedBrush Pro Studio.
Firstly, the software is only available in Windows versions. Therefore, Macs users cannot take advantage of this program's features.
Additionally, some users may find the interface confusing or intimidating due to its complexity.
Conclusion
These are our top five picks for the best digital art software in 2023. We hope this article has helped you narrow your choices and find the perfect software program to suit your needs.
If you're still feeling a bit overwhelmed or are just starting as a beginner digital artist, don't worry. The most important thing is choosing a program you feel comfortable with and enjoy using. With time and practice, you'll be churning out amazing works of art in no time.
If you want to improve your digital drawing skills, check out our courses "Digital Illustration for Beginners" and "Digital Drawing in Procreate for Beginners."
To upgrade your drawing skills, our courses "Fundamentals of Drawing" and "Mastering Lighting and Shading" are perfect for you. Also, check out the collection of our online courses. We have courses on every topic to help you hone your drawing skills.